​​Driftless Provisions is the celebration of connection we share between the land, animals, farmers, and each other. Our old-world charcuterie craft is rooted in the Driftless Region of SW Wisconsin where there is an abundance of thoughtfulness and intentionality that helps guide us in our work.
Starting out in a root cellar while learning the art of salami, owner and founder Ryan has honed the profiles of each salami to pay homage to their European roots while being distinctly American. Inspired by the Wisconsin's Driftless region rolling landscape, trout streams, and small family farms, Ryan began planning how to best share this place with people near and far. As an outdoorsman and land steward, the table has always been a place to gather and share in good food and drink with stories of the field. Crafting salami from harvested wild game and local hogs, Ryan found a way to combine place and experience with those around him. That love of food and connection through sharing and storytelling has led us to where we are today.
Together, the team at Driftless Provisions creates high quality, premium products that honor the land, animals, and farmers. We are proud to do service to this place through good food and hope you enjoy a little piece of the Driftless.
Our Products & Sourcing
In 2022, we transitioned our brand to be entirely free of added nitrates to ensure we continue to provide our customers the cleanest & healthiest products.
Thoughtful sourcing is one of our highest priorities. Our products are handcrafted with real ingredients, always free of artificial additives and fillers. Pork is the heart & soul of Driftless Provisions and we know the quality of our meat makes a profound difference! We, therefore, exclusively source humanely-raised, heritage breed Berkshire hogs free of antibiotics and growth hormones. Locally sourced grass-fed beef, honey and maple syrup are other local ingredients we are thrilled to use in our products.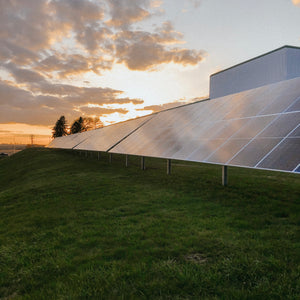 Environmentally Minded
In March 2023, our 800 square foot drying chamber officially became solar powered! The solar array supplies the electrical grid powering our curing chamber's cooling compressor and drying unit with ~130,000kWh of energy per year. This is enough power over the course of the year to offset the needs of our curing chamber!
We are forever grateful that the solar power transition was spearheaded by the Vernon Economic Development Association and their vision for the installation being "a critical part of our sustainability plan and is a long-term solution that fosters a stronger, more stable community."
Although we did not personally fundraise for the solar project, we are thrilled to be benefiting from the panels and helping reduce our fossil fuel energy footprint. We feel lucky, grateful, and inspired to be in partnership with so many like-minded individuals who also care deeply about sustainability and the future of our community.